I love having friends and family to my flat at Christmas so I'm getting my home ready for them all arriving this year by buying some nice fragrant candles to place around my hallway, kitchen and living room. Candles are very homely and can create warmth while giving off an embracing scent. I love the musty cinnamon and orange festive candles that you can buy from my favourite homeware retailers, The White Company and Jo Malone. You can find festive inspired ranges which add a subtle scent but are big in character. Last night I visited both stores and splurged out on some stunning candles. I can't wait to use them!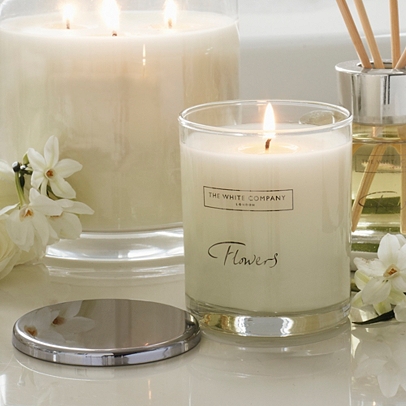 For only £20 at The White Company you can treat your home and your visitors to the inviting aroma of the 'winter' fragrance. All boxed up in one of the signature candle jars using high quality mineral wax, the notes of cinnamon and clove add warmth to any room while a dash of zesty orange can lift the room. My guests are going to love stepping in out of the cold and surrounding themselves with this warm, spicy scent. The jar size is not too big or small, so it doesn't take over the dining table can be used as a nice centrepiece surrounded by some holly and ivy.
I also purchased this limited edition candle from Jo Malone – Incense and Embers from their winter collection. As one of their signature fragrances it's a worldwide best seller. I sampled some of the other scents in the store but really wanted a festive fragrance to fill my home. These luxurious candles are timeless and elegant in their glass circular holders with tied ribbon, beautifully wrapped up and stored in their iconic branded boxes.
The smoky scent is perfect for this time of year as it releases silver fir and white pepper notes. I found it very relaxing and comforting with tinges of leather, vetiver and golden amber.  I'm so glad I chose the incense and embers candle, it really is a fantastic combination for a wintery, festive scent to welcome friends and family to your home. This candle was priced at £42.00 which was more than what I would normally spend on a candle, but I was assured by the sales staff that I would have at least 50 hours of wonderful burning time (did you know the candles are made using the highest quality wicks?) so I felt that it worth the expense.