Us girls need to get our skin care in order this winter. Without fail I always take off my make up when I get in at night after work – it helps to let the skin breathe and keep it clean. No one needs to keep on day-old foundation and sticky mascara when you are just chilling out at home. It's worthwhile trying a few different brands to find the right cleanser for you – my skin type is combination to dry so I prefer a liquid cleanser as it's not as abrasive and dehydrating as face wipes. Let's look at the best products for taking the days make up off. 
This large bottle of 200ml of goodness is pumped full of alpine herbs for their softening properties and formulated with very pure vegetable extracts to help rebalance the skin. St. John's wort, sweet almond, marshmallow and linden – this gentle cleansing milk glides on like a caress and leaves skin surprisingly clean and smooth. Just apply with a cotton wool bad and glide over the face to remove impurities and make-up – leaving skin clean and clear. The intensive moisturiser help to improve suppleness and your natural elasticity. It states on the bottle to use this morning and night every day, so I have followed Clarins advice. I've since found this cleanser really effective and have noticed that it leaves my skin bright and fresh looking. Buy your bottle at any boots store or click boots.com for only £19.90.
If a lotion isn't your thing try worldwide best seller 'take the day off' from Clinique. This light oil has been lab created to remove all traces of eye make-up, and stained lips. The wonder of this stuff is that it's suitable for all skin types, so you don't need to worry if it will affect sensitive skin or those with underlying dermatological conditions.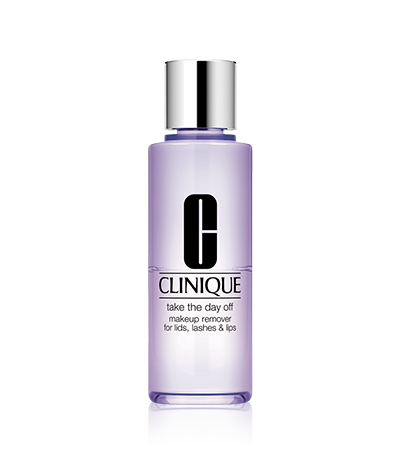 Priced at £17.00 from Clinique.co.uk, this is a unique two-way formula that loosens the grip on your foundation and quickly slides off the most persistent of mascara and lipsticks. Also you're in safe knowledge that this amazing oil is ophthalmologist tested and suitable for contact lens wearers so your eyes are well protected. When I was using this, I found that I only needed a small splash each day so the bottle lasted for months, I definitely prefer this to other off the shelve brands you would find in a supermarket. If you are looking for a new skin care regime add this product to Clinique's three step process – the liquid soap acts as effective face wash, then follow up with 'take the day off' finally finish off with a lot of thick coverage of the light and refreshing moisturiser. Find out more at your local Clinique care counter or Clinique.co.uk.