Recently I've noticed more and more cloaks and capes gracing the fashion spreads of magazines. I really love how they can look glam and smart when worn with sleek black skinny jeans and nice boots. 
This Aillaa cape from Ted Baker is ideal for making a fashion statement during the cooler months. Handmade from voluptuous wool this classy look will make for a cosy dramatic look. The designers at ted have hit the nail on the head the clever design of this style – a contemporary style it is cut to a flattering length, with concealed armholes and a flattering funnel wrap neckline for optimum coverage. In classic TB style, the detailing is impeccable with a magnetic branded metallic bar fastening.  Take your seasonal style up a note for an elegant look with some midi-arm leather gloves. Pictured is the beautiful oxblood burgundy colour but you can also select from a great range of other rich colours. The range of sizes is also adaptable for every shape with options small, medium and large. Get yours today for a very reasonable £199.00 from Ted Baker outlets.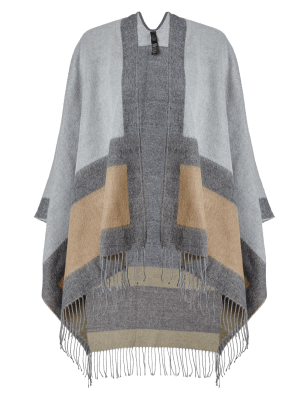 If you're looking for a quick throw-over wrap then head to Marks and Spencer. Their current winter collection is top notch – they have really put a lot of effort into their designs this year and have some really stylish looks for women's of all ages. I loved this grey wrap – as the cooler months draw in, its perfect for adding a warm yet trendy layer to your outfit. Whether it's to nip to the supermarket for your food shop or to go for a coffee in town this key wardrobe item is a perfect purchase. Made from 100% acrylic is machine washable so no treks to the dry cleaners! Only £27 instore.
Have you thought about adding a poncho to your wardrobe this season?  No not like a Mexican cartoon characters get-up, but one like this stunning piece from the winter collection by Karen Millen. These warm cover-ups emerged on the fashion scene around ten years ago but are now firmly back in shop windows.
Go for an off-duty look and throw this versatile cover-up over smart skinny jeans and a fitted top. I love how the window-pane check colours look vivid and vibrant on the wool. It says stylish but you can feel relaxed with the crafted ultra-soft and refined feel while maintaining a loose shape with an open front and fringing to sway your way around town. Karen Millen produce some unique wardrobe-worthy pieces every few seasons so it has to be said this one is a definite must to add to your street style for this winter. Shop now for £125 at karenmillen.co.uk.